Howdy, Stranger!
It looks like you're new here. If you want to get involved, click one of these buttons!
______________
12" White Stickers ______________
BallOfSpray $5 Donation ______________
BallOfSpray $10 Donation
Cole Giacopuzzi and John Horton get scores at 41 at the Banana Split Ball Of Spray Tournament
Saturday June 10 2017, Arvin CA
Cole Giacopuzzi was having perfect conditions at the world famous Banana Lake in Arvin Southern California. John Jacobson (AKA Johnny Bako) at the wheel of a beautiful Malibu Response was ready to do what it does best. Cole jumped in the blue water with his Day Glow Radar Vapor Pro Build and ran some clean passes from 32 off down to 38. He's now in the water at the south end of the lake and he knows only 6 buoys are between him and a score at 41 off... The rest is history, Cole ran an amazing 39, one buoy at a time... He's glancing at Rico (scoring on the dock as he is about to turn 5... A bit back foot heavy... a bit flat to 6 but out of the gates. Congratulations, 39 is in the books.
Now on the Dock, John Horton (chief Judge) just finished his carne asada tacos and is wondering if he grabbed someone else's liner by mistake... Anyway, he picked a Radar ski for this ride and is determined to take Cole down... Horton scored 1@41 off!!!
We have the video!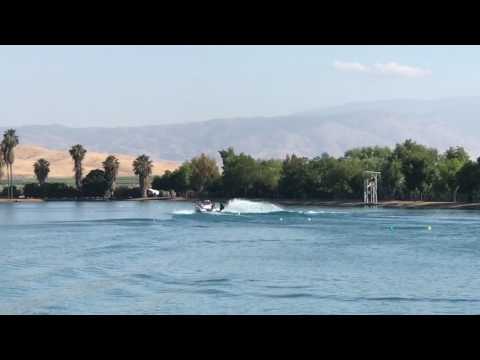 Eric Francois - Studio City, CA - 2017 Vapor Pro Build - Reflex Super /R Style