With the change in technique and equipment over the past 3-4 years my ski buddies and I have been getting through -32 off consistently by using, and I guess rwefining, what I call "Behind the boat" slalom. Where a decent stacked position after the ball will get you far enough and fast enough across the wakes to run all 6.
The problem for us seems to be at cutting the rope to -35 off.
It's like we're in a different world and it in my case, might as well be 38 off.
I find I'm coming in AT the ball with very little chance of getting it and typically only score 2-3 balls. Honestly I'm not close to running this pass yet trying to improve by free-skiing at 35 off with consistent decent turns! It's like there's 2 worlds: Behind the Boat slalom, ("BHB") 15-32 off, and beside or High on the Boat ("HOB") slalom. I have read the GUT articles dozens of times and can't unlock the secret.
In the videos I've watched, (many dozens of them!) -35 off seems so,..well, easy! Set up a good glide, stacked position, cut decently, but briefly for 1 ball, keep the handle close till course width, reach with a small counter, fully turn the ski, hook up in the great stacked position you started with and zoom across the wakes in the early and wide position you came in with! Voila! "Lather, Rince, and repeat" I swear it looks like I'm pulling harder at 28 off than it seems any of the guys or gals running to 38 are doing at 32 off!
I have coached guys going through -38 off on proper technique, and can recite each detail and aspect of a great pass at very short line. Translating it to our skiing is a different matter.
It almost looks like I have to do a drastic style and strategy change that includes cutting and gliding much higher and wider for 1 ball setup, cutting with much more intensity enroute to 1 and gliding out super-wide and high to run this advanced pass. I mean a drastic change, not a refinement of my present technique.
My issue / question is to that point: is 35 off such a significant difference in technique that I should effectively throw out what we've got vs refine and do more? I feel that the skills and strengths we've built getting through -32 at this top of the scale for Behind the Boat (BHB)slalom, don't serve us well enough to have a decent chance at -35?!
So what were your breakthrough techniques, thinking or strategy changes that clicked and made -35 off consistent?
Here's a link to some 32 off practice,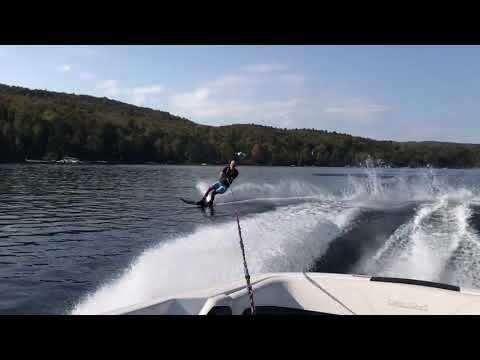 I put it here to show where I'm at, but I'd really like to comments on keys in breaking through to decent -35 off.
Thanks.
I need to ski back to the handle obviously.