I was a bit hesitant to post this, but I'm looking for some answers to my current 28 off challenges. Here is a video of a 28 off pass at 34 mph. It has the regular speed version and then a quarter speed version. Tips and analysis are appreciated.
It seems to start well and I think I might be up on the boat enough for 28 off. I would like a little more ski in the water during the glide. The pull through the gates/wakes seems to be a bit jarring and I separate from the handle. I try to regain control of that and stay on it into the edge change. I don't feel particularly narrow at 1 ball and the turn seems to go well. However, I am pulled forward right after one ball. Some recovery and a similar repeat at 2. I try to smooth it out for 3 and 4, but realize I am getting downcourse and revert to scramble mode to eke out the remaining 2 buoys. Finally, it culminates in...wait for it...40 feet of rope laying on the water and a big hit at the gates.
My success rate with 28 off this year is a bit better than last year and much better than two years ago. I've run it in two tournaments this year. I've also run it in 3 other tournaments during the pass back to the dock after missing it for the score. In practice, I usually run it once per collection of sets within about 2-4 attempts.
If the initial reaction is "take up golf", I do that about the same - flashes of "adequacy" intermingled with baffling exhibitions of poor execution.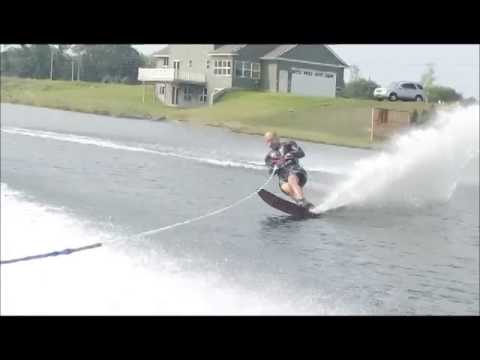 The worst slalom equipment I own is between my ears.