Please watch the following video before reading the text below.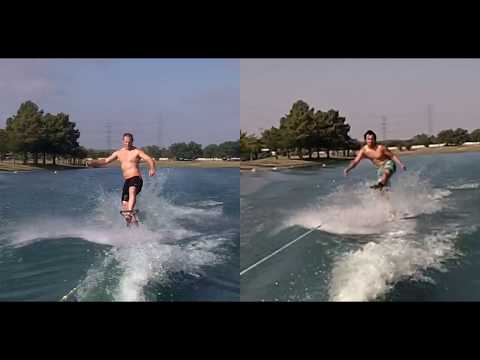 So this is the 2nd time in a row that I have gotten cut on my Toe Side. I for sure get the ski at least 85 degrees around, but probably at 90 every time, however I have asked judges why it was cut and I have concluded that because my body doesn't rotate sideways, (only my knee and down does) I get cut on them.
So is tricking not about what the ski does anymore?
Picture this... You put your feet in a 90 degree angle. Your non-dominate (handle) foot is pointing forward, and your other foot is turned 90 degrees to the side or your dominate foot. Now lift your forward facing foot on to the seat of a chair. This is how I am when I do a TS. My whole body isn't turned sideways, however as long as your foot is 90 degrees, the ski will have the same angle. I have learned this technique because I have flexible hips and it is not necessary for me to rotate my whole body to get my ski around the full 90 degrees. There were separate judges, however this has been a recurring problem for me. There appears to be a bias that favors more experienced skiers and it gives them the benefit of the doubt. There appears to be a bias favoring more advanced skiers. When questionable or obscured from view, it is assumed their trick was sufficient scoreable while a less experienced skier doing the exact same motion is assumed to be insufficient to score.