Looking at the videos of a training session aftwards and check the timing of trick runs via the videos also works, but it seems more fun and direct to do it on the water. I couldn't find anything to just buy and use. But a few weeks ago I bumped into this little device, which works on 12V: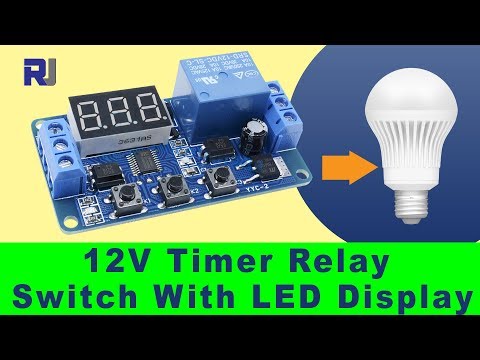 Its program 2 mode is perfect for this and its accurate enough: 20.0 seconds.
Its easy to get it, at least here in Europe, from China for less than 15 dollars; I ordered two for 12 euros. And it works great; I built a prototype to test if a 12V powerled, without beep, would already be enough. It sure is as the test confirmed, but its probably more fun to add a beep. That gives this wiring:
So the operator (and probably also the skier, its a loud beep) can hear when the clock starts to tick (confirming they effectively pressed the button - and giving the skier the opportunity to instruct the operators afterwards on timing). I'll add a switch for the beep though, it might be too disturbing or annoying. Nice to use in the beginning, and turn off when the operator is skilled enough.
Anyway, I'm quite happy with the results so far, and now I'm left struggling with connecting it to the boat electric system. For the prototype I just connected it to the battery.
I see three options:
1 - just give it its own little battery and reload that once and a while.
2 - hardwire it directly to the boat battery (including a fuse)
3 - add a cigarette lighter plug to the dash of my 1997 ski nautique and use that to connect the device.
Option 3 seems most elegant. Option 1 makes it portable to other boats and usable on shore as well.
But I'm hesitant to drill a hole in the dash for a cigarette lighter plug and I'm unsure how to connect it to the dash wiring. I would appreciate any tips on that: Can I just connect it to 2 connectors of the ignition (a 3 connector plug)? Drilling a hole in the dash unproblematic?
Any tips much appreciated!