______________
12" White Stickers ______________
BallOfSpray $5 Donation ______________
BallOfSpray $10 Donation
Is there a way to reduce slack-line shake with Ski-Doc-Orbit videos ?
Background Off-Topic
A cable course appear on our lake in Minnesota for 2 days this weekend. It belongs to a guy whose pays a $2600 per year to a Ski Club for unlimited use of slalom lake in Arizona including 365 days of boat storage. His boat has never left the site and he has never skied in a tournament. The Minnesota cable course is dropped to the bottom unless he is visiting this home shared by an extended family on our lake. He keeps matching Radar skis at both sites. Its believable he can complete 35 off sometimes when he's not skiing in rollers.
On-Topic
I pulled him at 34mph 32off (Perfect Pass) in very bad conditions. Because of his 230lb weight and strength the Orbit mount gets hit much harder by slack than when I am skiing (165lbs). Anyone found a method or alternative to get videos with less impact from the rope being drawn tight by the skier ? He wasn't actually skiing with a slack line, per se but the rope shakes hard when it goes from no-load to high-load. I am sure some advanced engineering could dampen this . . But is there a low budget solution ?? Maybe the phone contributes to this, but its better with a lighter skier.
I use an old Samsung Galaxy S7 because its vintage has a slightly less wide angle lens than most other phones.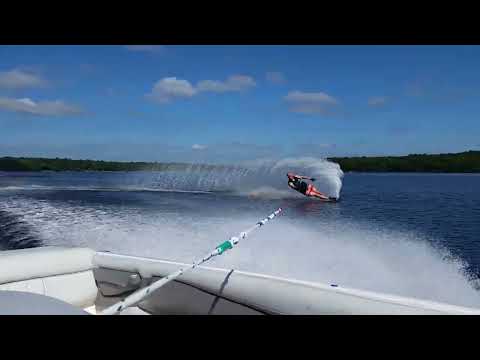 Home of the world's first submersible slalom course.