Camaro Titanium 2.0 Review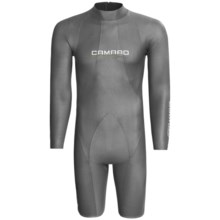 For some reason it is still Spring down here in the south. The water in Atlanta has been hovering around 68°F. I recently picked up a Camaro Titanium 2.0 shorty wetsuit to combat this spring's conditions.
I am 155lbs, 5'10, 38" chest and the Medium is a nice very snug fit. The first time I put the suit on I did not think it would zip up all the way. The Camaro has almost an elastic quality to it. The suit is tight but comfortable and almost pushes all of the air out of the suit leaving it suctioned to your body forming a very close second skin layer. Almost no water gets in this suit at all. Just a little will seep in through the zipper and around the neck when you sit in the water, but it is refreshing. Water does not penetrante the silver layer at all. I am always warmer in this suit than when I get out of it after skiing. When I am skiing I do not even realize that I am wearing the suit it really is like a second skin. It completely blocks out any wind and allows me to focus on my skiing rather than be distracted by the conditions. I did not have any of my range of mobility affected while wearing the suit either.
There is no pull string for the rear zipper so you have to get someone to zip you in and out.
Trim and file your finger nails before you go to put this suit on for the first time. The outside silver skin is very delicate and very very thin. If you grab it the wrong way and pull to hard while pulling it up your arms you could get little fingernail sized tears in the silver layer. While I do not think this effects the overall performance of the suit it could if you get enough little tears on it. It is a little harder to get the suit on your arms when it is already wet or damp if it has not dried fully after it's previous use. This is when I seem to get the nicks in the silver layer. If I know I will be skiing again soon I will just leave the suit on with it unzipped and throw some clothes over it to keep it from getting snagged.
If you don't like taking your time to get ready or don't want to worry about messing up suit I would say this suit is not for you, but I would check out the new BlackTec wetsuits by Camaro.
Hands down the best wetsuit I have ever used. I will never be able to wear another companies suits after owning this one. I will be a Camaro customer for life!