There have been a number of discussions over the past few months concerning how fast a skier is going during various segments of a slalom pass. Unfortunately, most accessible GPS recorders have a sample rate that is too slow. Sports radar guns don't work well for measuring speed around corners, and the math needed to model a slalom pass, with all of its constantly changing speeds, loads and angles, is likely more complex than plotting a moon shot.
But here is a simple way for you mathematician Ballers to accurately calculate maximum speeds with only a GoPro and a calculator. In its simplest form, it will tell you your lowest and highest speeds achieved. But with a little more effort, maybe you can come up with an algorithm to plot a speed/distance graph for the whole pass.
The basic idea is to generate a curve that correlates measured actual speeds with the pitch range of the whistle from your fin/ski. Put more simply, how can we turn this sound:
https://dl.dropboxusercontent.com/u/1530989/Waterskiing/BOS/Andy%2032.mp3
into a simple version of something like this speed plot from a stock car on an oval: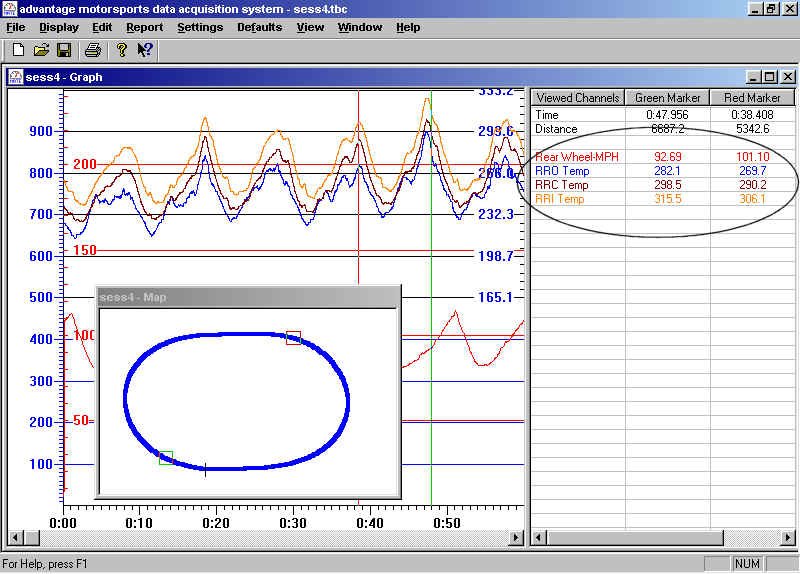 The data gathering side is easy. First, mount a GoPro directly to your ski, preferably on the tail, to record the whistle from your fin/ski during a few "calibration" passes. For these calibration passes, run the boat down the lake three times at three known speeds, say 25mph, 35mph and 45mph, while skiing out beside the boat at exactly the same speed as the boat (the ski whistles loudest when it is loaded on edge). Next, the analog pitch needs to be converted into numerical frequency values (Hz). Then the Hz values of these three speeds can be used to extrapolate a pitch/speed curve.
Next, record the whistle from your fin/ski during a pass. Plot the highest pitched whistle achieved against the pitch/speed curve and voila, you have your highest speed achieved. Better still, come up with an algorithm that plots speed over time or distance through the length of the course and you'll have an interesting tool like the one shown above for the stock car.
Race car and superbike teams use this kind of data extensively and it makes a big difference to performance. A speed over distance plot would tell you where you are accelerating and decelerating, and how effective you are at both. Comparing your plot to a better skier's plot tells you if you are accelerating and decelerating as soon, as hard, and as long as the better skier. Many, if not most, race car drivers have become more competitive by using speed/distance data exactly like this.
In any case, we have the tools. We just need a baller with the right background and interest to take up this challenge.
www.FinWhispering.com
... Your ski should be your dance partner, not a wrestling opponent