______________
12" White Stickers ______________
BallOfSpray $5 Donation ______________
BallOfSpray $10 Donation
The Ski-Doc Travler Workstation Review
The Ski-Doc Traveler Workstation is one of the newest products from a fairly new company that keeps turning out some innovative products for skiers.
The Traveler Workstation is portable version of the Workstation. The Traveler extends out to 32" and collapses down to 18" using a telescoping pole as the middle support. The two end pieces pop into place after the pole has been extended. The end pieces are connected by bungee cord to one another so there is no way to loose a piece. Just like standard workstation the traveler has the ability to hold your ski on its side so you can work on the fin without having to balance the ski on a table. Also the traveler has rubber bumpers where the ski comes in contact with the base while sitting to prevent the ski from sliding around while working on your bindings.
If you are like me and do not like using a picnic table to work on your skis and travel a good bit the Ski-Doc Traveler is the newest piece of equipment you should add to your bag. This unit fits very easily in my ski gear backpack and for sure will be able to be stored in any travel bag. I did add a velcro extension cord tie to each end piece to hold the ends to the center pole so the pieces are not flapping about when the unit is collapsed.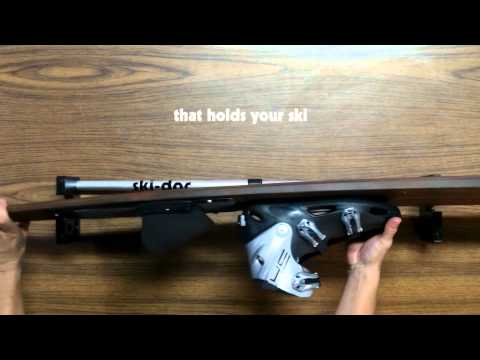 Ski-Doc also has pylon camera mounts, a fin setting recorder, wing gauges and the standard workstation. Check out all their products at
theskidoc.com
and Ski-Doc on
Facebook