Hi Folks,
I would appreciate some critique about these videos of a slalom run I made this week. There are two versions, one at normal speed and the other one slowed down to 30% (and zoomed).
I'm a 40-something guy who has skied open water a few times each year since childhood. I got introduced to the slalom course for the first time in 2011, and since then I'm fortunate to have a chance during summer months to get weekly runs through the course with feedback from quality instructors.
Since 2011 I've probably made about 150-200 runs through a buoy course. I've been working to unlearn several bad habits (bent at waist, leaning back, etc) but I have a long way to go.
I've been running at 15' off, 28mph and have had a few (actually 2) passes where I got around 6 buoys, but in those I didn't hit the entrance gates. I'm trying to ignore entrance gates (mostly) because hitting them often screws up the rest of my run, and I figure that timing alone will resolve entrance gates once I'm better overall.
The video I selected is from this past Tuesday and is the BEST form I showed out of 6 passes. Ironically my first pass got 6 buoys but was pretty ugly form. I'm happy with the progress I made (although it seems that I've taken a long time to even get this far) but I WANT MORE! There is something magical about carving through water around a buoy with arm extended and body inches about the water, and I want to make better magic!
The work areas I personally see are these ...
- get more stacked (ie: taller) in wake crossings and have the ski more on edge. I think I'm scared to fully commit and therefore sacrificing crosswise speed and unintentionally creating downcourse speed
- quicker edge transition after 2nd wake crossing. I believe I ski flat (or nearly so) for too long before carving around buoys
Please help me with anything you can see from these videos !!
slow motion: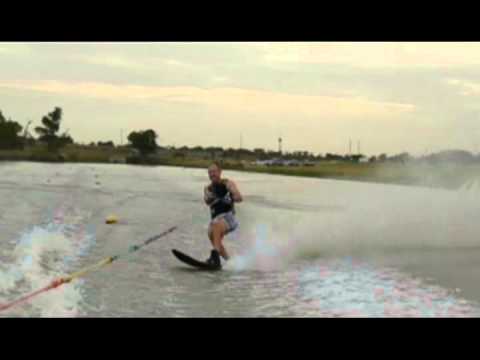 normal speed: