I have been skiing on the Radar Vapor for a few weeks now. I have liked the ski but it has not been amazing (until today- keep reading). I ran within one ball of my tournament BP a week ago so the ski clearly works but it was doing some things I did not like.
I had been running settings at or around:
Slot .777
Head .775
6.8565
2.478
8°
29 15/16
With these settings the ski is very fast, makes space and turns hard but off side turns were awkward on my hardest passes. There was a feeling that there was too much ski was in the water when I had to push. If I had pro skier skills (I do not) I would never push the ski that hard all at once and the ski would be MONEY.
On the hardest pass that I always run (35 off) I had managed a few times to get in the zone and the ski felt magic but when I get to the pass that I rarely make (38 off ) those off side turns were always a problem. The above settings had once or twice given me 35s that felt like 32s but I was never going to get past 1 at 39. It was good but not truly great.
So I dig through my Rolodex and contact Rossi. He gives me fin setting more like: 2.475 /6.885/ 0.765. It was like a whole different ski. Below are the first three passes I took with these settings(32/35/35). These numbers may be too aggressive for some skiers but for me this is simply bitch'n.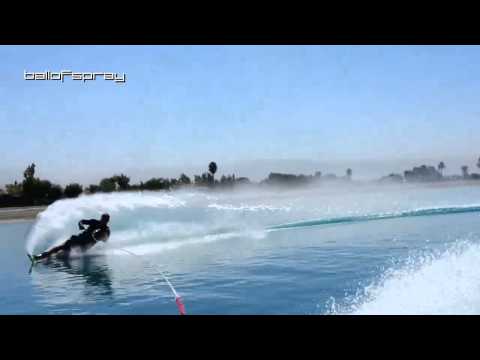 What sucks is that I did not film the second set with these settings. I was finding my groove with the settings. It took me a few tries but I ran by far the best 38 of my life. Never before have I been early to 6 ball at 38.