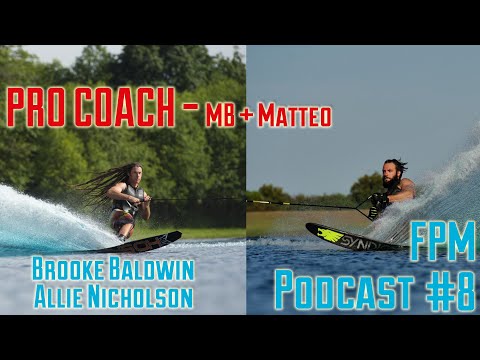 Something new on FPM, this is part 1 of a new series where MB and Matteo breakdown the technique and movements of some of the best skiers in the world. Here we take a look at two of the best women's skiers, Brooke Baldwin and Allie Nicholson. This episode was originally filmed as a joint FPM + TWSP episode, but due to the visual nature of the video analysis, we decided to release it here only. Big thanks to Matteo for sitting down with MB, as well as The Water Ski Broadcasting Company for the killer coverage all year. ALSO, sorry about the audio quality on MB's voice...the main microphone died part way into the discussion, so the backup microphone is all we were able to capture....
Coming next week, in Part 2, we will look at 2 mens skiers - Cole McCormick and Freddie Winter.
Show Notes:
Brooke Baldwin - Touch skier
What she does good:
-Reaching low, and how that actually helps her
-front to back weight transfer = efficient tail smear move at shortline skiing
What could she do better:
-Better timing into onside upswing….pulls too long into 1,3,5…loose line at finish
Most memorable moment: youngest women to ever run 10.75m pass
Allie Nicholson - Hard worker, never gives up
What she does good:
Matteo -
-transition timing is consistent…
Marcus -
-ability to always land back on ski, in Athletic Stance, for acceleration when the rope comes tight
-Doesn't Compress through the transition
What could she do better:
-pulls too long....carries far too much momentum into the next buoy
Most memorable moment:
-Collegiate nationals, injured but still determined. Skied for her team
Thanks for watching, and SUBSCRIBE if you liked what you saw!
Check out what Matteo has been doing over at the Water Ski Podcast:
https://www.thewaterskipodcast.com/
If you haven't already, check out the FlowPoint Method:
https://www.flowpointmethod.com/the-program
01100010 01100001 01101100 01101100 01101111 01100110 01110011 01110000 01110010 01100001 01111001